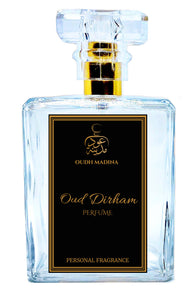 OUD DIRHAM PERFUME 100ml
Scents description:

• Soft Woody Base
• Mild of Mint
Gentle touch of refreshing minty fragrant along with little notes of several sweet-citrusy fruits. That includes very soft woody as its base, with contrasting sensation of fruity-sweet Attar.
A good option for customer who likes:
One of the best option for any individuals who are into or open to fruity/citrusy scented fragrances, given the unique yet elegant blend.
---
We Also Recommend