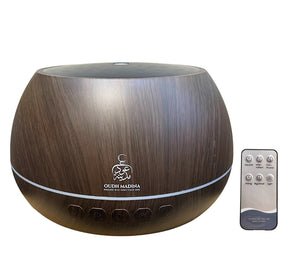 HUMIDIFIER 1L
1litre Humidifier Machine
Package Includes:
- 1x 1Litre Humidifier Machine
- 1x Remote Control with Battery included
- 1x Local SG 3 Pin Plug
- 1x Measuring Cup
- 1x English user manual

Specifications:
✅ Capacity: 1litre
✅ Use up to 10hrs continuous mist diffusion.
✅ Material: Safe Advanced PP material
✅ Noise Level:<25 dB(A)
✅ Area: Large Coverage
✅ Local SG 3-Pin Plug 
✅ Timer Setting: 6H / 9H
✅ 7 LED light colours. 
✅ Can be used as a LED night light separately even if mist function is not on.
✅ Diffuser is flame free and safe to use near babies and pets.
✅ Mist auto-off function when waterless and protect the machine from being damaged.
✅ Compatible with all types of essential & humidifier oils.
#diffuser #humidifier #oildiffuser #AromaDiffuserHumidifier #EssentialOilDiffuser #AirDiffuser #AirHumidifier #AirPurifier #EssentialOil  #Fragrance #Perfume 
---
We Also Recommend